For more information on the game, see the article for the 2003 version.
"In an old city... in an old neighborhood... after 13 long years... an old friend returns."
— Teaser trailer
Voodoo Vince Remastered, or Voodoo Vince HD, is an HD remaster of the 2003 Xbox title, Voodoo Vince. The game is available on both Xbox One and Microsoft Windows; previously, Voodoo Vince was available only on the original Xbox.
New Features
Edit
Voodoo Vince: Remastered comes with several new features. For example:
1080p resolution with 16:9 aspect ratio, and updated rendering and visual effects.
60 fps gameplay.
Select soundtrack updates and remixes by the game's original composer, Steve Kirk.
Xbox Live integration and achievements.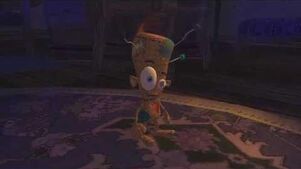 Ad blocker interference detected!
Wikia is a free-to-use site that makes money from advertising. We have a modified experience for viewers using ad blockers

Wikia is not accessible if you've made further modifications. Remove the custom ad blocker rule(s) and the page will load as expected.